From The Private Practice Elevation Podcast with Daniel Fava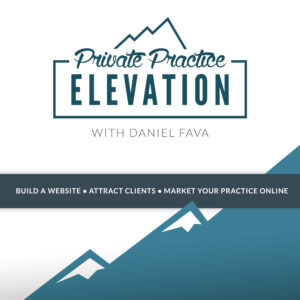 When your ideal clients search for your therapy services online, are they able to find you?
In this episode of the Private Practice Elevation Podcast, you'll learn all about The SEO Basecamp Live Training Group – our 7-week class for private practice owners who want to create and implement an SEO strategy that gets them more traffic and clients.
After working and speaking with scores of clients about their SEO, I've seen a typical pattern, and it often goes like this:
Your website has been created and you're ready to market your services to the world!
However, when you look at the analytics (if you have them) you can see that people just aren't showing up to the website.
So you wonder, "how can I get more clients if no one even knows I exist?"
So, after doing a bit of research and talking to colleagues, you learn that SEO (search engine optimization) is what you need to do in order to attract traffic to your website and create a steady flow of new clients in your business.
So you start learning what you can about optimizing your website through YouTube, podcasts, and blog posts.
And that's when the confusion sets in.
Which keywords should I use? Where exactly do I put them? What content do I need on my website and how do I even write that stuff so Google finds it?
After some time, you've pieced some of this SEO stuff together but you're not entirely sure whether you've done it right, missed a step, or if you're on the right track.
You're kinda just doing what everyone is suggesting but you're not sure how it all fits together.
So you're left wondering if clients will ever be able to find you and whether getting new clients from Google each month just may be a pipe dream.
Does this sound familiar?
If so, I want to let you know about The SEO Basecamp Live Training Group.
The SEO Basecamp Live is a 7-week, small group training, consisting of video training and live implementation classes.
Over the course of 7 weeks, I'll give you access to the exact SEO process we use at Private Practice Elevation to help our clients set up the foundational SEO elements that will get them more organic traffic and clients.
If you want to know more about how to create a roadmap for your SEO strategy and how to get more clients from your website, listen to this episode or simply visit the enrollment page here.

Links mentioned in this episode:
Enroll in The SEO Basecamp Live Training Group
The 4 Mountains of Successful SEO for Private Practice Websites